2020 Mentor

Jeff Blanchard & Cecilia Morales
Director, Product Design at Highland &
Design Thinking Lead & UX Architect at Acumen Solutions
Experience & Product Design:
Focus on CX, Product & Innovation
Learn About MVP's that Matter: Designing Products for Maximum Value
Designing for communication, marketing and visual deliverables is important. But how do we design conscientiously and effectively for innovative and impactful products? How do we gather evidence to both gain confidence in our design direction, and also the necessary means to influence deciders, sponsors and stakeholders? Learn to systematically refine ideas and insights into clear, coherent and desirable product designs, within a cross-functional team leveraging everyone's talent in the process.
Intermediate Level:
Have some understanding of different design thinking tools
(as-is scenarios, to-be scenarios, empathy maps, journeys, etc)
Have some experience with user research methods
Have some experience with prototyping
Session Topics:
Practice a variety of research, design, and product thinking methods, to align customer needs, ideas and feasibility
Define learning goals, gather data, and uncover product-market opportunities
Co-create a prototype and test it for additional insights
Define a lean MVP to deliver maximum value
Build a powerful product narrative for influencing stakeholders
Takeaways:
Ability to analyze and define critical learning goals
Ability to judge what design thinking methods are right for the problem or situation at hand
Ability to assess how to define an MVP and achieve product fit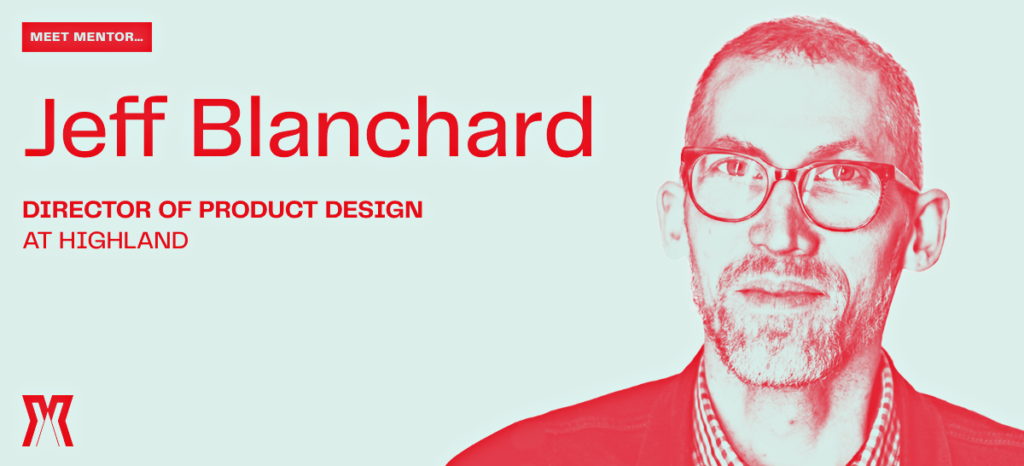 Jeff is the Director of Product Design at Highland, and has led the design of products and services across numerous verticals for nearly 20 years. His drive to experiment, learn rapidly through dialog and be inclusive of multiple perspectives comes from founding or being part of several startups and growth-oriented companies. These environments demand continuously trying new things, pivoting from what doesn't create traction, and using all available resources at hand. Jeff loves working with blended design teams to create the most impactful products possible—based on strong HCD principles and methods—and form digital strategies grounded in customer experience, accessibility, and an equitable exchange of value. In his off time he enjoys riding 🏍 into the countryside and finding things to shoot 📷.
Linkedin:
Jeff Blanchard
Instagram:
@routewest
Talk to Jeff about:
His motorbike journeys across the country
Cecilia is a Design Thinking Lead & UX Architect at Acumen Solutions with 20 years of experience in CX, branding, research and analysis as well as interactive and service design. As a natural born visual artist, collaborator & strategist she approaches challenges using research and design thinking facilitation as her top tools.

As a mentor she helps foster the conditions for creativity and productivity to flourish. She works to provide strength, support and purpose to achieve inspiration when team energy is low, and believes in swiftly addressing challenges to protect the flow of a team's success.

Ceci does not believe in one "right answer" and she will challenge you time and time again to practice discerning what the right answer and solution is for your next step in a challenge, given your stakeholders, your strengths, your interests in learning and your team.

Ceci grew up a mindfulness/spirituality junkie; she was raised Catholic, which raised a lot of questions about life and integrity. At 11 she had a "spiritual crisis" that led to studying various philosophical schools of thought, in an attempt to better understand our human drives, needs and opportunities for growth. She has been an independent truth seeker ever since.
Linkedin:
Cecilia Morales
Instagram:
@cecim_22
Talk to Cecilia about:
Delicious Food, Self Insight Tools, Drums and Percussions