2020 Mentor

Allie Serd
UX Designer at Walgreens
Portfolio Improvement:
Improve Your Storytelling in The World of User Experience Design
Rambling in your interview can make you seem a little unorganized, you want to come across as passionate and take your audience on an intriguing journey of emotions and lessons in the course of your work. Stories connect the information to emotions and thus allow us to relate, empathize, and process information in a more digestible and memorable form. Storytelling in your interview can establish expertise, show your personality and make you a much memorable candidate. In Allie's sessions, you will work together to create a presentation deck that creates a story you can use to present your work during your interviews and get that job.
Beginner Level:
An already existing portfolio is preferred with an established look and feel
You will be working in Google Slides. Other presentation programs are acceptable but for feedback purposes Google Slides is preferred.
Session Topics:
Why is storytelling important in user experience
Building an Outline & Presentation Deck
Discussing your process/approach without getting long-winded
Learn how to discuss your approach and bringing it back to your full picture
Get inspiration to be a catalyst for change.
Reflecting on your project and learning understand your wins and where you could improve
Presenting your presentation in an interview format
Takeaways:
A full storytelling presentation deck
Ability to demonstrate their skill set and personality during an interview
Improved storytelling skills and confidence to back-up, defend, and present your work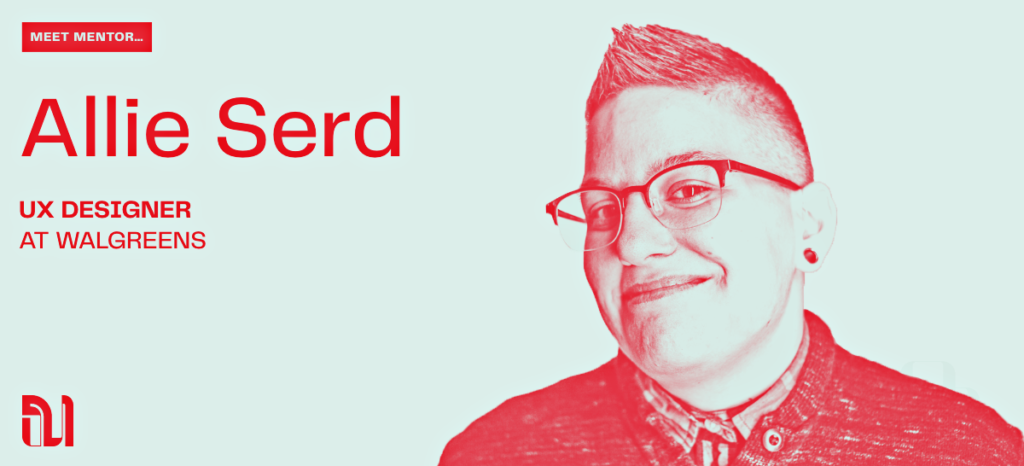 Allie is a UX Designer at Walgreens where she works specifically on their mobile app. She's been in the field since 2013 and has done work from small companies/agencies to big companies – trying to find her place in the field. She just finished her masters in HCI from DePaul in December. Allie enjoys prototyping and wire-framing (a total Axure nerd at heart) more than anything but enjoys the research side of UX as well. This is Allie's first time mentoring ever but she is excited to pay it forward and really help her fellow UX'ers! Fun Fact: She enjoys emo/pop-punk music way too much.
Linkedin:
Allie Serd
Talk to Allie about:
Mental Health, Good IPAs, YA Books and/or Concerts