2022 Spring Mentor

Antonio García (he/him)
Head of Design at Table XI
Advancing as a Professional Design Leader
Focus on Design Leadership for People Development
From Masters of Craft to Leaders of People
Making the leap from senior individual contributor to design manager to even design director can feel intimidating and challenging. Whether you're managing one direct report or running an entire department, you're probably looking for ways to grow as a leader.
If you're on the search for mentorship and support from someone who has been there before and someone who can help you navigate the challenges of managing upwards and outwards, Antonio García is dedicating his time to share what he's learned, building and leading creative teams of all shapes and sizes. Antonio has 20+ years of experience in small studios, in-house teams, mid-size consultancies, and large agencies, cultivating company culture and helping team members reach their career goals by fostering growth within his teams.
Join Head of Design, Antonio García, as he takes you through real-world contextual learning, scenario-based coaching, peer work sessions with feedback, and group discussions and reflections. You'll explore (and define) what being a modern design leader means to you while learning about the kind of company culture you look to cultivate. Antonio will expand your perspective through challenging yet energizing facilitation, provocative questions, stimulating assignments, and resources galore. Your cohort will dive into the taboo subjects of design leadership in a safe virtual space, covering topics not typically taught in school and rarely ever at work.
Virtual Sessions:
Advanced Level:
Should be further along in career
Currently leading people, teams, and/or have direct reports
Must be stepping into management transitioning from senior individual contributor to a design manager or manager to director
Or be an entrepreneurial creative that is scaling their independent practices and looking to bring on contractors and/or their first FTE
Potential Mentor Topics:
Developing Your Leadership Style and Philosophy
Managing Your Time and Energy Like a Boss
Creating Conditions for Doing the Best Work
Cultivating a Culture of Critique
Building Diverse and Inclusive Creative Teams
Evolving Your Team's Practice
Potential Takeaways:
What it takes to lead exceptional creative talent
Powerful discussions and meaningful self-reflection
Setting your short- to mid-term leadership goals
Accountability and lasting connections with peer leaders
Investing in yourself and your career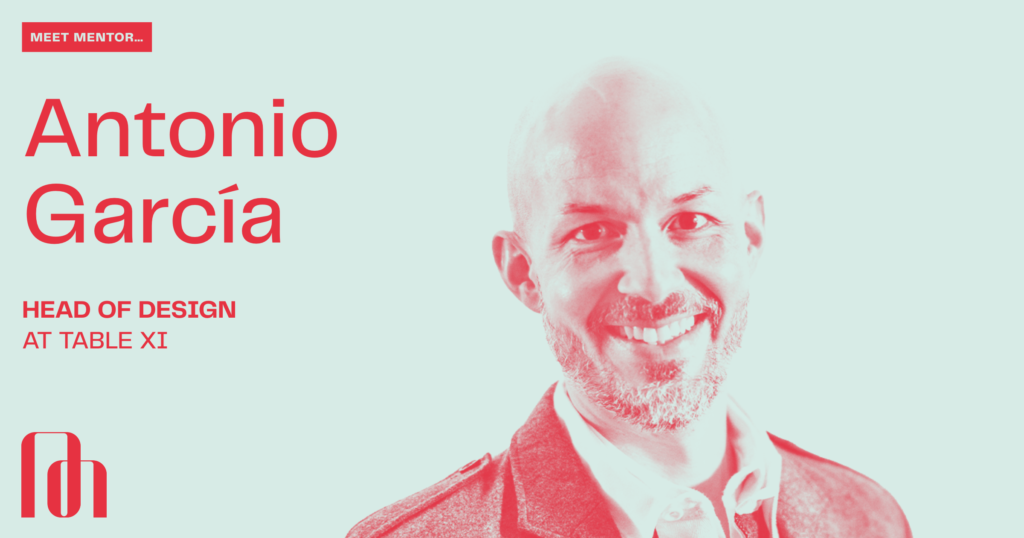 More about Antonio García
Antonio García is Head of Design at TXI, founder of Dadwell & Co., and Board Advisor to AIGA Chicago.
Before joining TXI's leadership team, Antonio was Group Experience Director at Rightpoint. Before Rightpoint, he helped launch Northern Lab—Northern Trust's internal innovation accelerator. Ahead of the Lab, he led gravitytank's interaction design discipline and social innovation practice. Leading into innovation consulting, Antonio was Director of Strategy for Firebelly Design.
In addition to design leadership, Antonio is a mentor, educator, and lecturer. He taught Communication Design and Visual Storytelling at Northwestern University's Segal Design Institute, Customer Discovery as part of University of Chicago's Polsky Center Entrepreneurship Essentials, and New Product Definition at IIT Institute of Design.
A frequent contributor to community conversations on diversity and inclusion, design ethics, culture and creativity, Antonio was named one of 50 People to Watch by Graphic Design USA.
If he's not hard at work, Antonio is most likely DJing, drawing, or training for his next marathon.
Talk to Antonio about:
Gameboy hardware hacking, golden era hip hop, new ideas and concepts, and documentaries