2022 Spring Mentor

Jason Lung (he/him)
Experience Design Group Director at KPMG
Learning Leadership Skills
Focus on Design Leadership for Projects & Teams
Finding Your Voice for Emerging Design Leaders
Are you a designer stepping into a design lead role? Is your goal to grow as a design leader as you lead others in teams and projects?
Taking on a design lead role can feel amazing, but you'll have to balance leading a project vision with leading interdisciplinary teams.
As a design lead, you'll experience challenging client asks and extreme project ambiguity. You'll juggle team ambitions with personal ambitions and manage various creatives that will communicate differently. Leadership is about knowing how to approach all of the above effectively, starting with creative communication and confidence.
Learn how to strengthen your leadership skills and style through communication to better influence and direct those you lead. Uncover your communication style and methods to step into the design leader you've always wanted to be.
Join Experience Design Group Director Jason Lung, as you navigate what it is like to step into a design lead role and design leadership. You'll discuss the types of leaders you've worked for and loved, including those you want to forget. As a cohort, you'll talk about situations where you had to let go of the reins and delegate so you could hold on to the vision while getting it out of others. Jason will share soft critical skills, presentation styles, and communication methods for directs, peers, and clients. In the last few weeks, you'll put your leadership skills to the test by role-playing, questioning theories, and holding everyone accountable for how communication and leadership work in the real world vs. theory. By the end, you'll have a better grasp of your communication style and confidence in your leadership practice.
Virtual Sessions:
Google Meets
Tools: Google Slides & Mural
Senior-Advanced Levels:
Ideal for those stepping into design lead roles or are looking to make the transition
Ideal for those looking to better communicate through the varying levels of leadership in company structures found in ad agencies, tech consultancies, in-house firms (ex: design lead to creative director vs. design lead to executive leadership stakeholders)
Is at the intersection of communicating with designers, non-designers and project stakeholders both internal and external
Potential Mentor Topics:
Growing pains when going from doer to leader
What kind of leader do you see yourself as?
Developing your communication style with designers vs non-designers
Making presentations memorable and how storytelling can bring it all together
How to get your stakeholders to trust your team and your team to trust you
Potential Takeaways:
Comfort in living in and communicating ambiguity
Learning how to trust others without sitting over their shoulders…even though you are on the hook
Strengthening your relationships with directs, peers, clients, teams, and other stakeholders
Uncovering your leadership style through communication and knowing your strengths
Interpersonal presentations and other critical soft skills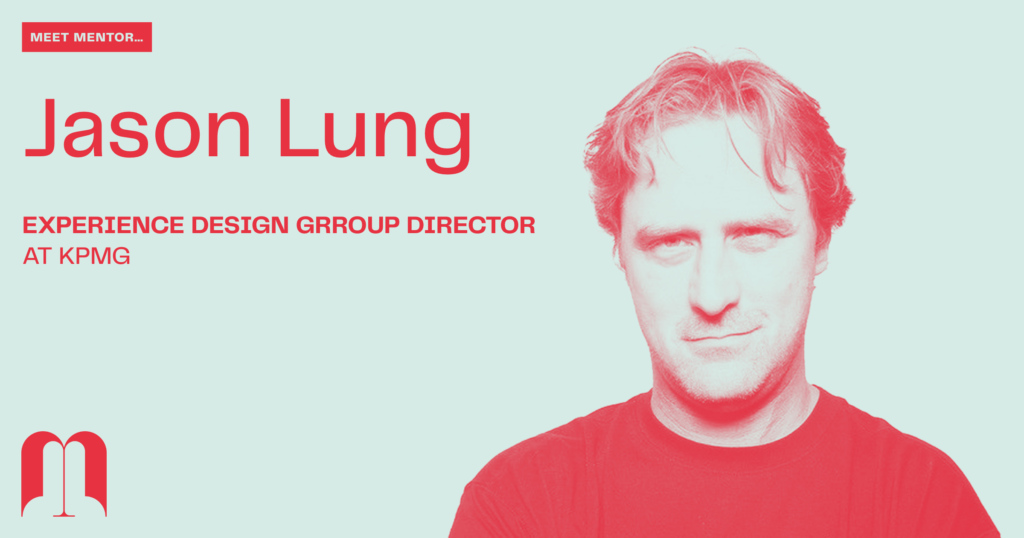 More about Jason Lung
Jason Lung moved to Chicago 20 years ago and started as an Art Director at an Ad Agency. During this time, he became fascinated by the marriage between art and copy and how it could evoke an emotional connection to mass audiences. It wasn't long before he realized his love of designing meaningful connections over the surface-level aspects of advertising.
As the economy shifted into a new digital culture, Jason became fascinated by how apps and emerging technology made connections more visceral. Since then, Jason has designed many digital experiences, apps, and connections throughout his career that have allowed him to let his imagination run wild. He eventually transitioned from art direction, copywriting, and creative brainstorming to design thinking facilitation.
Outside of his craft, Jason loves to spend time with his family and friends, playing soccer and grabbing drinks after a game, hiking, camping, and helping his wife design costumes for the plays their children are in.
Talk to Jason about:
Philosophy and theoretical sciences (time dilation, multi-verse, consciousness), soccer, his kid's theater performances, and emerging technology (AR, VR, AI)