2021 Fall Mentor

Tasia Carroll (she/her)
UX Researcher at Reverb
UX & Product Design
Diving into User Experience Research
As advocates for users, UX Researchers are the minds that help bring to light what is needed for building meaningful products and/or experiences. Whether you are starting off in your UXR career or are a UX, UI, or Product Designer, research methods and metrics are great contributing factors when thoughtfully building and designing product experiences. They lead the way to uncover countless perspectives which enhances the potential of future features and thoughtful client buy-ins.
Dive into User Experience Research with Tasia Carroll, UX Designer & Researcher where you'll talk through and learn the basics of UXR processes, methods and metrics to help truly communicate your work backed with consumer and data-driven insights.
Remote Sessions:
Beginner / Intermediate Levels:
Mentees should have a good understanding of UX Design
Good for anyone who is UI of UXD focused
Great for those who lack User Research within their company and those on small teams or are sole designers
Potential Mentor Topics:
Identify opportunities where you lack information (What do you want to learn?)
How to identify and get buy-in from stakeholders
When to use certain methods to get answers
Ways to recruit and interview users
Synthesize your user feedback
Tell the user story and define your next steps
Potential Takeaways:
Resources to start practicing usability testing in your own work
Learn how to ask unbiased or leading questions to get the authentic user feedback
Learn how to communicate with stakeholders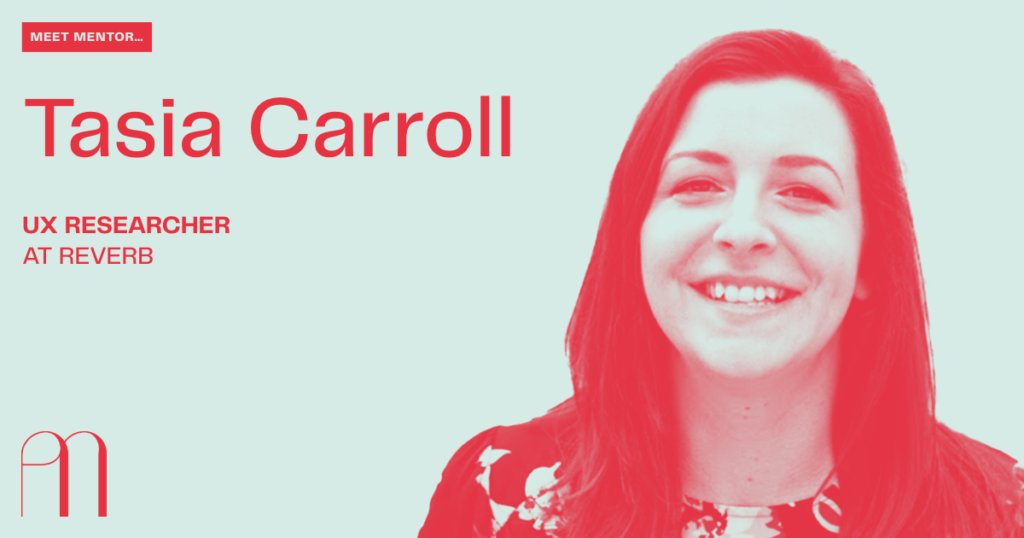 Tasia Carroll is a UX Designer & Researcher with a background in Education. It's where she built her passion for lifelong learning and learned the virtue of scrappiness. She realized she wanted to make a more significant impact by solving problems outside of the classroom and found her way to Designation and the UX world. She looks to continue exploring ways to creatively solve problems using every tool on her belt.
Linkedin:
Tasia Carroll
Talk to Tasia about:
70's and 80's horror films, gardening, cooking, records, live music, and crafts.