2021 Fall Mentor

Justin Thomas (he/him)
Senior User Experience Designer at Oak Street Healthcare
Kickstarting Your Career
Leveraging Your Past Experiences to Become A Better Designer
As someone who is just switching careers to become a designer, you might think that you're "starting from scratch" and have nothing to offer as someone "brand new" in design, but the reality is that you have an incredible amount of knowledge that comes from having lived a life before design.
Connect back to the value that you bring from your past experiences with Senior UX Designer, Justin Thomas. In these sessions, you will write a new story of who you are as a designer. Together you will assess your past career and personal history to identify the skills and experiences that will enable you to be a better designer than you ever thought possible.
Remote Sessions:
All Levels:
Mentees who are switching into Product Design from a previous career; with ideally 2-5 years of experience under their belt
Should have completed a bootcamp or have had some sort of formal Product learning
Potential Mentor Topics:
Self-evaluation – what experiences got you here?
Your superpowers – what awesome skills have you picked up on your journey?
Looking at your experiences through a "design lens"
Putting it all together into your new personal story
How to land awesome jobs and clients by relating your current skills to your past experience
How to keep building on your experiences throughout your career
Potential Takeaways:
Career confidence from realizing you're not starting at square 0
Figuring out your design superpowers and complementary skills
Perfecting your pitch on how to communicate your value based on ALL of your skills
Resumé/cover letter/portfolio improvements based on learnings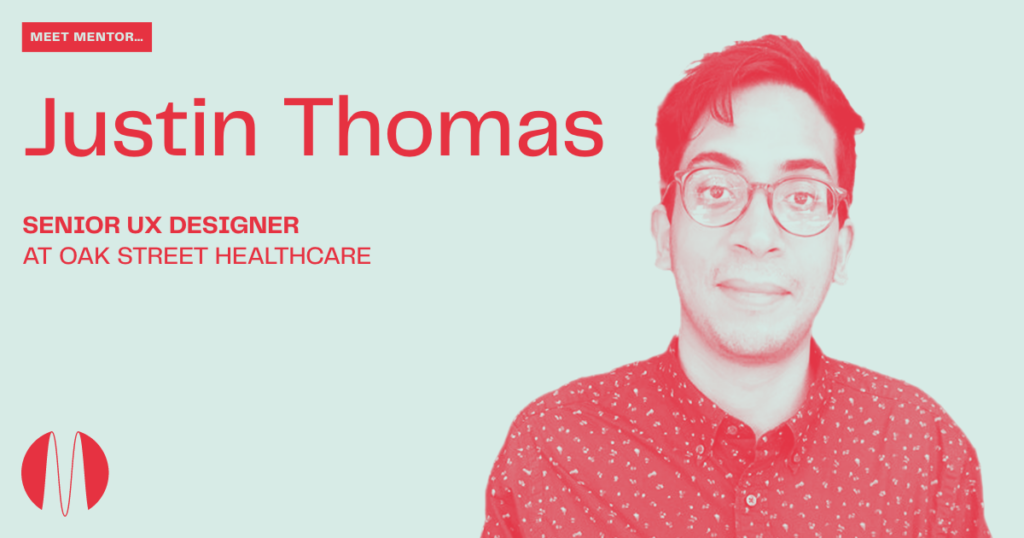 Justin is a Senior UX Designer at Oak Street Healthcare. With a background as an entrepreneur, marketer, and designer he has been creating products and experiences for people for a long time. At Oak Street Health, Justin practices human-centered design and builds products that directly affect health outcomes for patients and the day-to-day lives of their center clinicians.
As a staunch believer that one of the best ways to learn is to teach, Justin spends his free time sharing his knowledge through consulting, mentoring UX bootcamp students and moderating a UX design subreddit.
Linkedin:
Justin Thomas
Talk to Justin about:
UX Design, entrepreneurship, cooking, and/or geeky stuff.