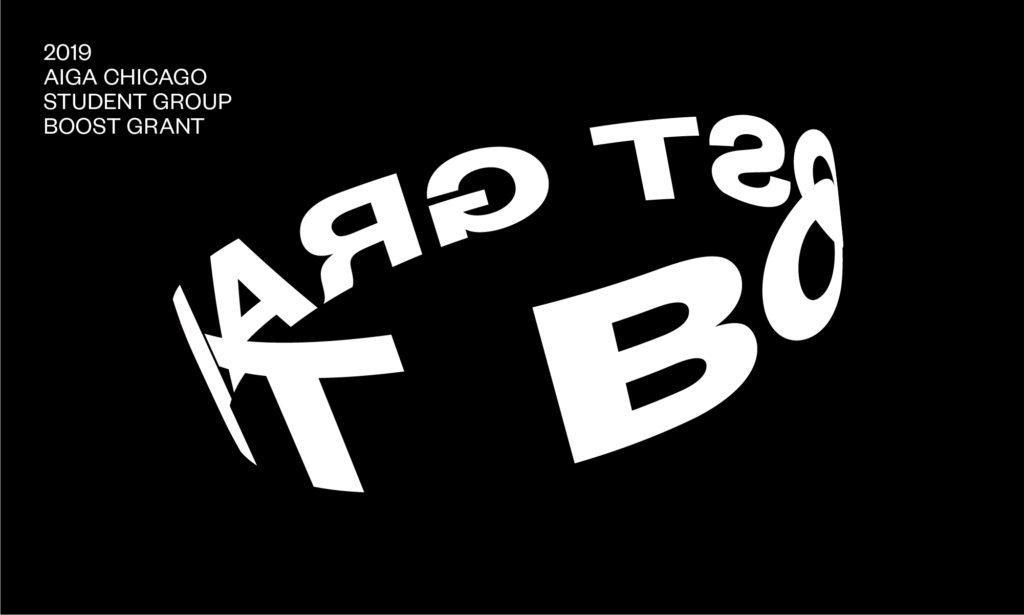 AIGA Chicago is now accepting applications and proposals, until Sunday, December 1st, 2019 at 11:59 pm.

AIGA Chicago is committed to creating opportunities for design students to engage with the broader community. This year, the chapter is offering one Boost Grant of up to $1500 for a Chicago chapter student group, which can be used to help bring a project of their design to fruition.

Student groups are invited to submit proposals for projects that employ design in meaningful, community-oriented ways—whether it's exposing budding student talent to the Chicago professional sector, or fostering social change through design.

Past recipients have applied funds from the Boost Grant towards design projects that benefited community outreach initiatives and non-profit educational organizations, or to organize workshops on design for social impact.
Eligibility, Requirements & Stipulations:
AIGA Chicago will accept submissions from any active student group affiliated with the Chicago chapter of AIGA.
The selected project must be completed (printed, published, or otherwise made public), and a documented case study must be turned into AIGA Chicago before August 1st, 2020.

Representatives from the selected student group will be asked to present on the project at the AIGA Chicago September 2020 Board Meeting.
Projects must be accessible to the Chicagoland design community, not just students of the hosting group's institution.
Please prepare a line item budget demonstrating how grant funds will be used to cover project costs. *Note, funds may not be used to purchase food or alcohol for events.
If you are a grant recipient, AIGA Chicago will ask that you share the results of your work via images, text, and presentations to the board. The process of the project will be documented on social media.
If you are a grant recipient, you must provide receipts of all purchases related to project. Any funds not verifiably spent on project may need to be returned to AIGA Chicago.
Apply Now
Complete the application before Sunday, December 1st, 2019 at 11:59 pm.
Create a single PDF (no larger than 10mb) containing visuals that help convey the context of your project. Label all images with title, author, media and date. In your file, please also include your school, faculty advisor, student group leader and contact details for both. Submit this file via email by Sunday, December 1st, 2019 at 11:59 pm to jo-nell@chicago.aiga.org
Important Dates
Application & Proposal Due: Sunday, December 1st, 2019 at 11:59 pm.
Grant Recipient Announced: January, 2020
Proposals will be judged by a committee of judges, and will be based on clarity of intent; feasibility; perceived impact on the student group undertaking the project and the community/audience it aims to engage.

If you have any questions regarding the submission process, please contact Jo-Nell Sieren, AIGA Chicago VP of Education, at jo-nell@chicago.aiga.org

Thank you to One Design Company for the artwork.