2022 Spring Mentor

Yue Wu (he/him)
Associate Design Director at McKinsey & Company
Kickstarting Your Career
Transitioning into Design Leveraging Your Non-Design Background
Do you have a non-design background and are transitioning into the design field?
As someone who is just switching careers to become a designer, you might think that you're "starting from scratch" and have nothing to offer as someone "brand new" in design, but the reality is that you have an incredible amount of knowledge that comes from having lived a life before design. Learn how to leverage your non-design background and get a glimpse into how the design field works in various landscapes.
Connect back to the value that you bring from your past experiences with Associate Design Director, Yue Wu. Formerly an architect, Yue entered the digital design world after leaving his previous career and is passionate about sharing useful tips and advice to help others break into the design industry confidently. During your sessions, rediscover your love for design and learn about the various design landscapes and design profiles a designer can have. You'll leverage your non-design background to define your strengths that can be applied to design in order to map out where your career can go. Together you'll craft a personal roadmap to help you break into the digital design industry, confidently.
Hybrid Sessions:
Virtual, Zoom
In-Person, TBA
All Levels:
No previous digital design experience needed
Ideal for those with non-traditional design background
Useful for those looking to transition into a different design practice from another design practice
Potential Mentor Topics:
Understanding the design landscape (e.g., in-house design teams, design agencies, start-ups) and different profiles of the designers to see how you can position yourself
Learn the hard and soft skills a designer should have and how to lean into your strengths
Assess your past career and personal history to uncover the skills and experiences you have that can help you succeed in your new role
Learn the pitfalls, blindspots, and challenges of transitioning into a digital digital career
Looking at your experiences through a "design lens"
Potential Takeaways:
An overview of design profiles and landscapes
How to position yourself when transitioning into a new role
Understanding of how to articulate the value that you bring from your past experiences
Personal roadmap and learning trajectory to break into the digital design industry
How to land awesome jobs and clients by relating your current skills to your past experience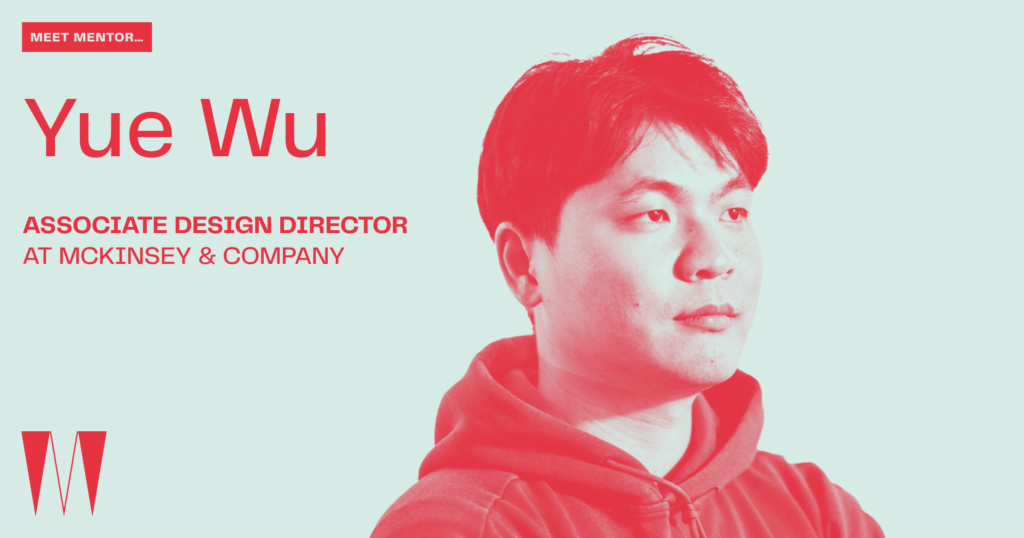 More about Yue Wu
Yue Wu is an Associate Design Director at McKinsey & Company. His distinctive perspective comes from his architecture, design, and technology background. His background and skillsets empower him to solve complex design and analytical problems, serving as a translator between design and cross-disciplinary teams to deliver lasting impact. With a strong passion for re-envisioning the experience of emerging technologies, he brings expertise in human-centered research, digital and spatial design, information design, and data visualization.
Yue holds a Master's Degree in Design Studies from the Massachusetts Institute of Technology (MIT) and a Master's Degree in Architecture Design from Tongji University.
Find Yue on:
Linkedin
Talk to Yue about:
Data Visualization and Information Design, Illustration, Architecture, Bubble Tea